THE BASILICA'S STAINED GLASS WINDOWS NEED TO BE RESTORED
What does the Stained Glass Windows Project Entail?
---
The Basilica is the home to an exceptional collection of 28 large and 35 smaller stained glass windows. This is largest single collection of stained glass windows in Newfoundland and Labrador. Donated entirely by parishiaoners, the Basilica's large windows were the work of onlya three stained glass artists, the celebrated William Warrington of London, and Charles Lévêque and Louis Lichtenheldt-Koch of Beauvais, France, and were installed between 1857 and 1905. Because the Great Fire of St. John's in 1892 did not burn the Basilica, the church and most of its large windows are one of the few remaining intact pre-1892 collections of nineteenth-century stained glass in St. John's. The smaller windows in the ambulatory and the Marian Chapel are all the work of one artist, Gerald Earley of Dublin. They were installed in 1954-55. They are in the arts and crafts style and constitute the largest collection of mid-twentieth century Arts and Crafts style Irish stained glass windows in the western hemisphere.a
In subjects and themes, the large windows depict various biblical characters, saints, apostles, and members of the Holy Family. They are the iconography of a group of saints commonly found in the devotions of the Irish Roman Catholics who built this cathedral. The 1954-55 windows represent the Joyful, Sorrowful, and Glorious Mysteries of the Rosary, along with a number of saints canonized in the early twentieth century. They constitute a Marian-centered hagiography favoured by Archbishop P. J. Skinner.
WHY DO THE BASILICA'S STAINED GLASS WINDOWS NEED TO BE RESTORED?
---
No two windows have the same dimensions and all need individual restoration using original materials.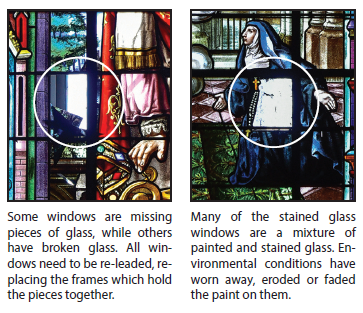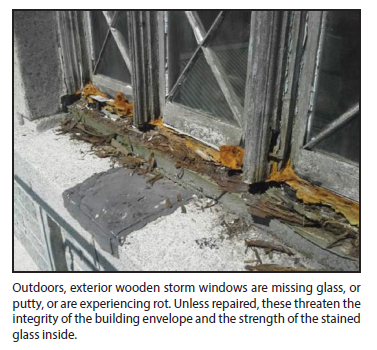 How are Stained glass Windows Restored?
---
The Basilica's stained glass windows are exceptional works of art. Some, like William Warrington's Queen of the Holy Rosary (1859) are composed of several thousand small pieces of stained and painted glass, held together in panels by a soldered lead frame.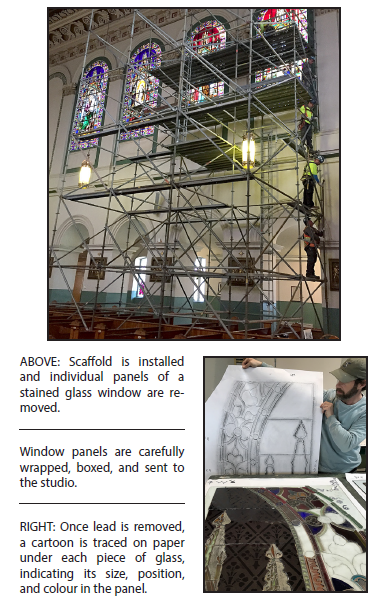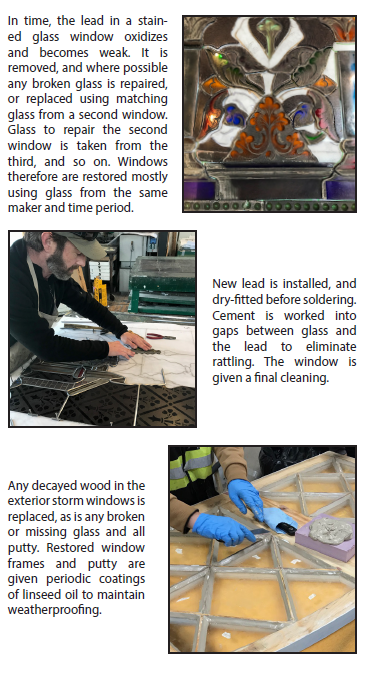 HOW CAN YOU HELP RESTORE
THE BASILICA'S WINDOWS?
---