Live Stream of Mass from
the Basilica Cathedral of St. John the Baptist
Daily Mass: Monday-Saturday 9 am
Weekend Masses: Saturday 5 pm,
Sunday 9 am & 11:00 am NST.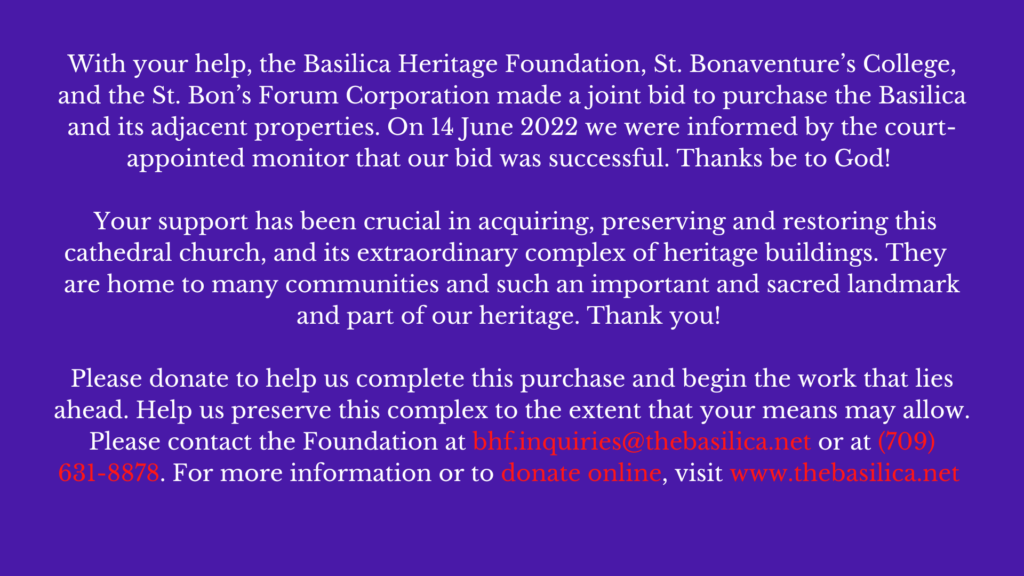 ---
To watch Mass for the Feast of St. Dominic
8 August 2022
Please click here.
---
To watch Funeral Mass of Margaret Walters,
6 August 2022
Please click here.
---
To watch the Funeral Mass of Margo Hussey
(2 August 2022)
Please click here.
---
To watch previous Masses, visit and subscribe to our YouTube channel.
Permission to livestream music used in liturgies from the Basilica was obtained from One License (OneLicense.net) License # 400410-P.  
To read a press release from the Basilica Heritage Foundation, St. Bonaventure's College Inc., and the St. Bon's Forum Corporation issued on 14 June 2022, announcing the successful outcome of our bid to purchase the Basilica Complex, please click  

here

.
Livestreams and heritage video recordings from the Basilica Cathedral are part of the work of the Basilica Heritage Foundation. Your donations are very much appreciated and help keep daily Mass from the Basilica Cathedral online. Your donations also directly help the Foundation in its work to restore, repair, preserve and interpret the historic and sacred fabric of the Basilica Cathedral, its associated buildings and their heritage. All donations made online are secure and will receive a tax receipt. Please click "Donate to the Foundation" (above) for options.
Donate to Support our Work
---
Please consider making an instant donation to support the work of the Basilica Heritage Foundation. You can also avail of our legacy donation options. 
Your donation will ensure the preservation of this beautiful world class treasure, a significant part of Canada's and Newfoundland and Labrador's history and heritage.
As an Independent Registered Charitable Foundation, donations are tax-deductible. Receipts will be issued for donations of $20 or more. Thank you for your support!
You can choose from the donation options to make an instant donation using payment cards.